Plenty of sunlight as part of an active lifestyle is the best way to get vitamin D. But what can you do when you don't have the opportunity to get outside as often as you'd like?
A supplement can be a necessary way to boost your levels of vitamin D. It is created by your skin's exposure to sunlight, so if the sky is grey or you can't get outside, you may not be getting enough. Vital for the regulation of calcium and phosphorous absorption, it provides several benefits, including supporting your immune system.
Several factors can affect how easily vitamin D is absorbed in your gastrointestinal tract. This means that some supplements have minimal impact on your vitamin D levels.
This article contains affiliate links.
What is Vitamin D?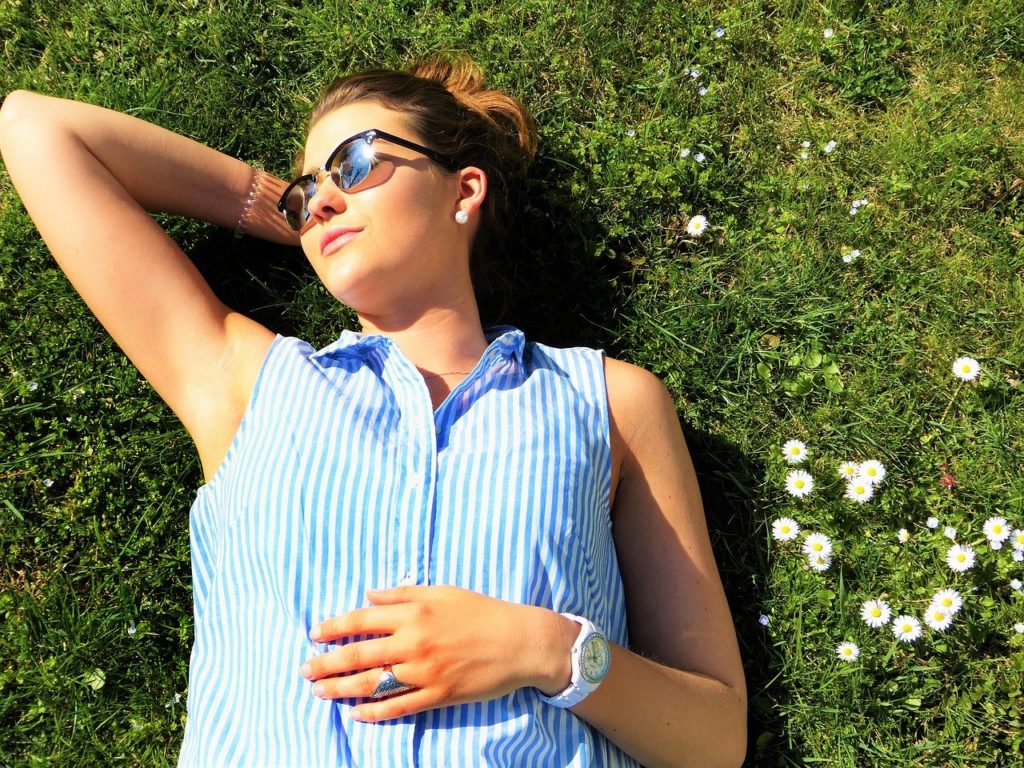 Vitamin D is a micronutrient produced in your skin cells. When cholesterol is exposed to natural sunlight, vitamin D is synthesised. It is also found in some foods including oily fish, red meat, liver, egg yolks and some lichens. Others such as breakfast cereals, plant-based milk and margarine spreads can be fortified with it.
It is a fat-soluble compound that is responsible for enhancing the absorption rate of calcium and phosphorous. It also has several other useful roles, making it essential to your health and well-being.
Are there different types of vitamin D?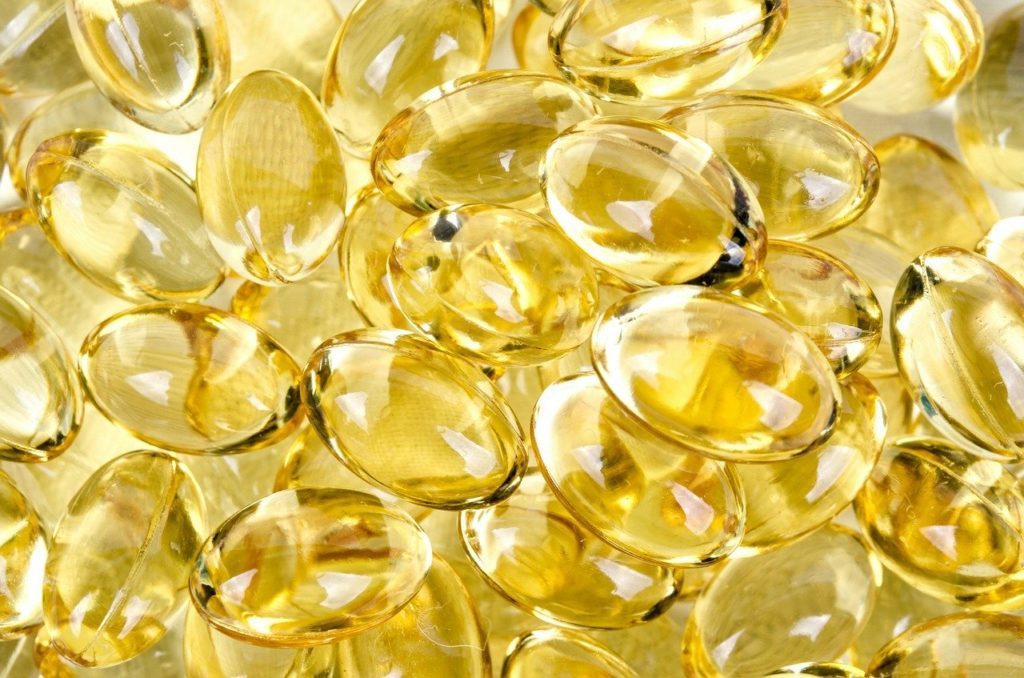 There are two main types of vitamin D; vitamin D2 (ergocalciferol) and D3 (cholecalciferol). D2 is synthesised by plants, and D3 most often comes from animal sources. They both have similar effects, but D3 is the type produced in humans.
Both types can be effectively absorbed into your bloodstream. Once they are there, they are metabolised into a substance called calcifediol. In humans, vitamin D3 yields more calcifediol so has greater efficiency and is the preferred source when choosing a supplement.
Because most D3 sources are animal products, it can be hard to find vegan or vegetarian versions. Some vegetarian supplements contain cholecalciferol produced from lanolin that has been washed from lambswool. Vegan options are limited, but now a few are available sourced from specific strains of lichen.
How to choose a supplement
Not all supplements are the same, and some will work significantly better than others. Here are some things to look out for to ensure you get what you pay for:
Independent certification – Look out for third party certificates, seals or logos. These indicate that the product has been checked and analysed by a separate company and its quality has been approved. Genuine ones will have a code or identification which should allow you to find out who awarded the certificate.
Soft gels, capsules, liquids or powders – Tablets can sometimes fail to breakdown completely, preventing all of the active ingredients from being absorbed. Soft gels, capsules, liquids and powders provide a much higher chance of complete absorption.
Too much vitamin D – Taking too much vitamin D can be harmful, and taking a large amount regularly increases the risk. Choose a supplement that provides what you need and no more.
How is it sourced – Some manufacturers prefer not to make it clear where they get their active ingredient from. Stick to companies that are upfront about the source of their vitamins.
Fillers, bulking agents and binders – If a capsule is only half full once the active ingredient has been added, some brands add chemical fillers to fill them up. Artificial bulking agents and binders are also used to stick products together into tablets. Sometimes this is necessary, but it's worth looking for companies that don't do this or only use natural products.
The Benefits of Vitamin D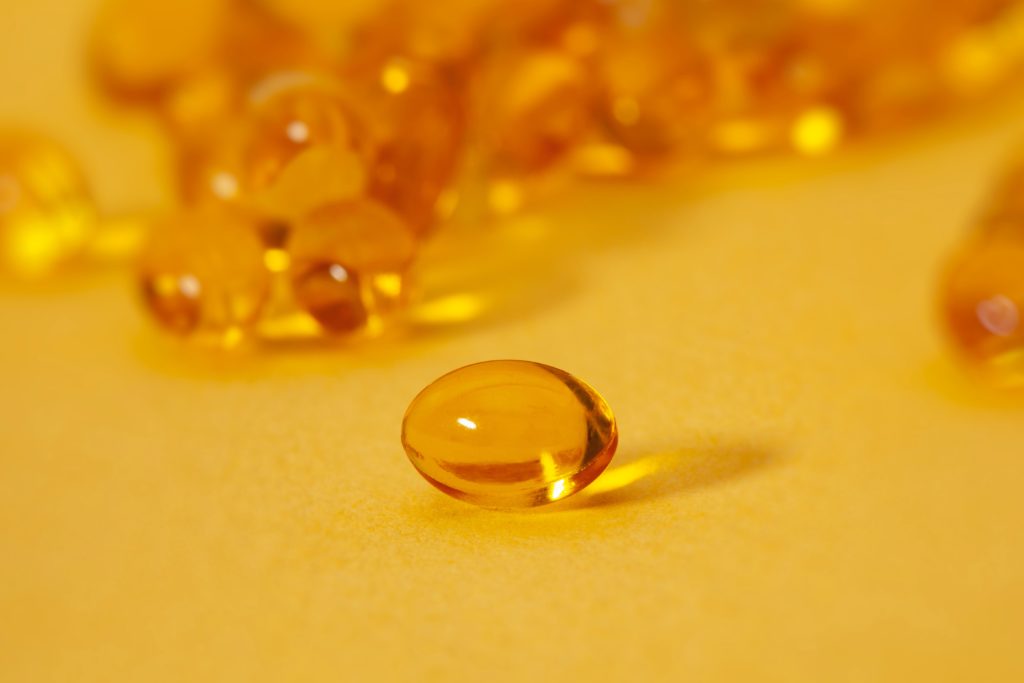 Vitamin D is vital to several body functions. It's most important is that it acts as a regulator to the absorption of calcium and phosphorous into your body. This means that it has a significant effect on the growth and development of bones and may play a part in posture and muscle strength.
It has also been found to play a role in supporting your immune system and helping it work at its optimum. Studies have also shown a strong correlation between vitamin D deficiency and low mood and depression.
How much should I take?
The NHS recommends a daily amount of 10µg (micrograms) during autumn and winter, for everyone over the age of one year. This amount is also recommended if you're unable to get outside regularly during spring and summer. They also say that exceeding 100µg daily is considered to be unsafe.
Many of the supplements available today have high potency and range between 10µg and 100µg. This is more than recommended but within the safety limits.
There are so many with such a high strength because several research studies show that, for most people, 10µg may not be enough to raise the level of vitamin D in their blood to the required level. If you're unsure of how much is right for you, always talk to your doctor.
Some supplement companies use the IU measure. 10µg is equivalent to 400IU, and 100µg is 4000IU.
Are there any side effects?
Although vitamin D supplements are considered to be safe, there are a few side effects associated with taking too much. An excessive amount of vitamin D intake leads to higher levels of calcium in the blood, which can cause vomiting, nausea, and lack of appetite. Studies show that a higher intake of vitamin D can also lead to diarrhoea, constipation, and other digestive disorders, including irritable bowel syndrome.
If you're pregnant, breastfeeding, on medication or suffer from a chronic condition, it's essential to speak to your doctor before starting any new supplements.
Also, if you notice any side effects or strange sensations, stop taking them immediately and contact your doctor.
The Best Vitamin D Supplements Available in the UK
We've carefully selected the best vitamin D supplements available in the UK according to our experience and rigorous selection criteria.
If you prefer to get your vitamin D with extra minerals and nutrients, try our article on Best Multivitamins UK. For a great natural accompaniment read Best Turmeric Supplements UK.
1. Vitamin D3 Plus from G&G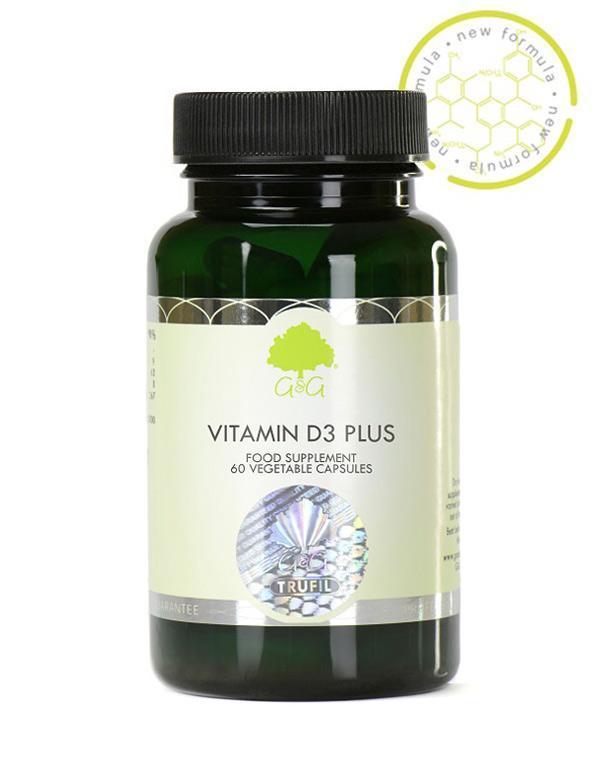 This vegetarian vitamin complex delivers 100µg of vitamin D alongside a blend of calcium, vitamin K2, vitamin C and magnesium. This makes it an ideal supplement to support bone maintenance and immune health.
G & G vitamins produce an impressive range of over 140 products and are a longstanding and trusted name in the UK. Each of their supplements is made in accordance with their guiding principle of 'make it right or don't make it at all'.
One bottle holds 60 capsules and should last for two months on the recommended serving of one per day. The shell is made from vegetable cellulose and the whole supplement is suitable for vegetarians but not for vegans. They're kosher and there's no GMO, gluten, dairy, added sugar, wheat, yeast, colourings, flavourings or preservatives.
Key information
100µg of vitamin D per serving
Also contains vitamin K2, vitamin C, calcium and magnesium
60 servings per bottle
Suitable for vegetarians
Natural ingredients
£17.00 per bottle
---
2. Mykind Organics Vegan D3 Vitamin Spray – Vanilla – 58ml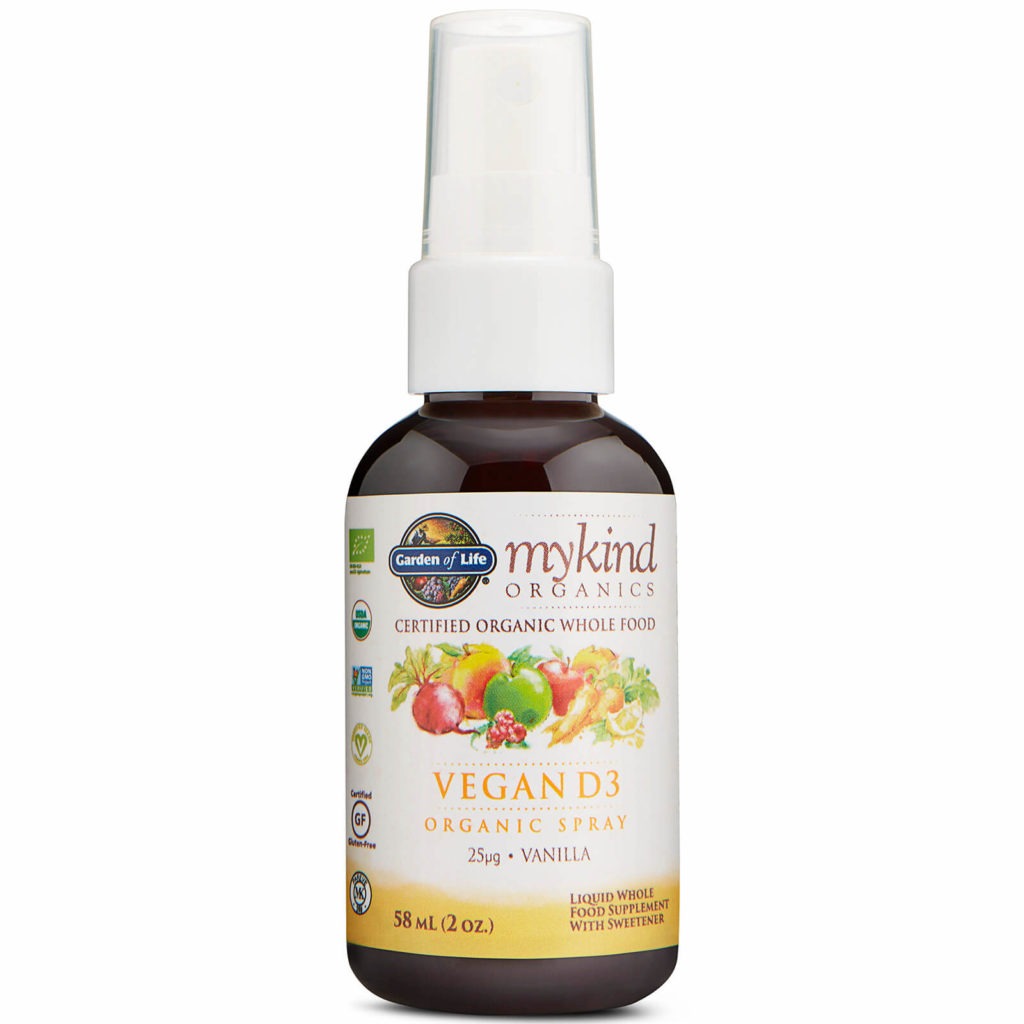 This natural, wholefood liquid delivers 25µg of vitamin D3 per spray. It's flavoured with organic vanilla and contains an incredible range of beneficial ingredients including pumpkin seed oil, cranberry seed oil, vitamin E, lichen extract and rosemary extract. It is a source of vitamin D3, certified organic and suitable for vegans and vegetarians. Each bottle holds approximately 125 servings.
Garden of Life is a whole food supplement company who believe that the best source of nutrition is real high-quality foods. They never use synthetic chemicals and employ a third-party to verify that their products are contaminant free.
Key information
25µg per serving125 servings per bottle
Suitable for vegans and vegetarians
Certified organic
Made with wholefood ingredients
Vitamin D3 sourced from lichen
£13.50 per bottle
---
3. Botanycl Vegan Vitamin D3
These vegan capsules contain vitamin D3 sourced from lichen. The active ingredient is fat-soluble, so it's been dissolved in a blend of coconut and sunflower oils. This means that it's easier for your body to absorb it.
Botanycl formulates their supplements on natural principles and uses only plant-based ingredients. They manufacture their products in the UK and have reached the standards of Good Manufacturing Practices (GMP).
Each capsule delivers 62.5µg of D3, and the recommended serving is one per day. One bottle holds 120 capsules and should last for four months. There is no GMO, gluten, dairy, added sugar, wheat, yeast, colourings, flavourings or preservatives.
Key information
62.5µg per serving
120 servings per bottle
Suitable for vegans and vegetarians
Vitamin D3 sourced from lichen
No synthetic ingredients
£17.95 per bottle
---
4. Viridian Vegan Vitamin D3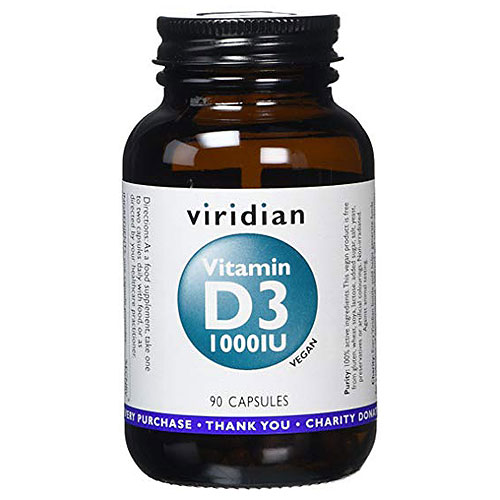 These straightforward, natural capsules, contain 25µg of lichen-sourced vitamin D3 in a base of alfalfa. They are suitable for vegans and vegetarians and have been made to the highest safety standards. The serving recommended by Viridian is 1 or 2 capsules daily with food. One bottle contains 90 capsules, so could last between 45 days and three months.
Viridian is a well-respected company with decades of experience in the industry. They create their products with real food and active ingredients and believe that the best techniques and raw materials should be used. This way, people at risk of low vitamin and mineral intake can top up on essential nutrients in a way that's as close to a balanced diet as possible.
Key information
25µg per capsule
90 capsules per bottle
Suitable for vegans and vegetarians
No artificial ingredients
Vitamin D3 sourced from lichen
£14.55 per bottle
---
Related reading
If you're not sure which vitamins or supplements you should take, you may like to read my article Which Supplements Should I take?
If you're looking for supplements, vitamins, minerals or just some helpful information, we have some other lists that you may find useful.
This site is a participant in affiliate advertising programs designed to provide a means for sites to earn advertising fees by advertising and linking to products and services. We participate in programs from Amazon, eBay, CJ, Awin, Viglink and other sites. We are compensated for referring traffic and business to companies linked to on this site.