With so many supplements out there it is hard to tell what you should be adding to your routine. Everyone is different and will benefit from taking different vitamins and health products.
Active ingredients make the best supplements when they are in their original form. This means rather than isolating beneficial compounds they provide the best effect when present in a superfood with many other useful ingredients.
Greens blends are powdered mixtures of green superfoods to provide many beneficial compounds. In this kind of whole food powder they are at their most effective and can be digested easily.
Each blend can be different and each company approaches them in a different way.
What are the benefits of greens blends?
Greens blends are like super multivitamins.  They provide you with a range of key ingredients but because they are sourced from whole plants each element brings lots of associated goodness.
They add superfoods to your diet
They are a great way of giving any healthy diet an extra boost. They shouldn't be used instead of eating well. However, they provide arrange of nutrients that even the healthiest chefs could not cram into one meal.
They provide lots of benefits
Each blend is different but they all contain a huge range of great ingredients. Each one is selected to bring a range of benefits. These can include:
Boosting your energy
Preventing some illnesses
Improve your health and wellbeing
Providing a large number of nutrients
They are versatile
Blends are most often in a powder form. This makes them very easy to make into drinks, smoothies or add to meals and snacks. It is also easy to adjust your daily dosage.
They are easily absorbed by your body
Because the greens come as powders made from natural ingredients it is easier for your body to absorb them into your bloodstream.
How to take greens blends
Greens blends usually recommend one serving a day. As long as you follow the guidelines on the packet you can adjust this to suit your needs.
Add one serving of greens to the recommended amount of water or your favourite drink. Coconut milk is my favourite addition to my greens blend.
Another great way to take them is to mix up your favourite smoothie and add in a serving of greens.
How do you take your greens?
Best UK Greens Blends
WellCo Super Elixir Greens
A great start to your morning this Super Greens Elixir has a tropical flavour to it and has over 3000 fantastic reviews. Its most notable effect is to boost your energy but many other users have noticed less illness and better skin.
This is a great organic and vegan product to really give you the best of nature. It is expensive but you get a top quality supplement for your money.
Little touches like the resealable packet add to the feel of a premium product.
Key features
Resealable packaging
Vegan
Gluten Free
£36.00 for 150g (15 servings)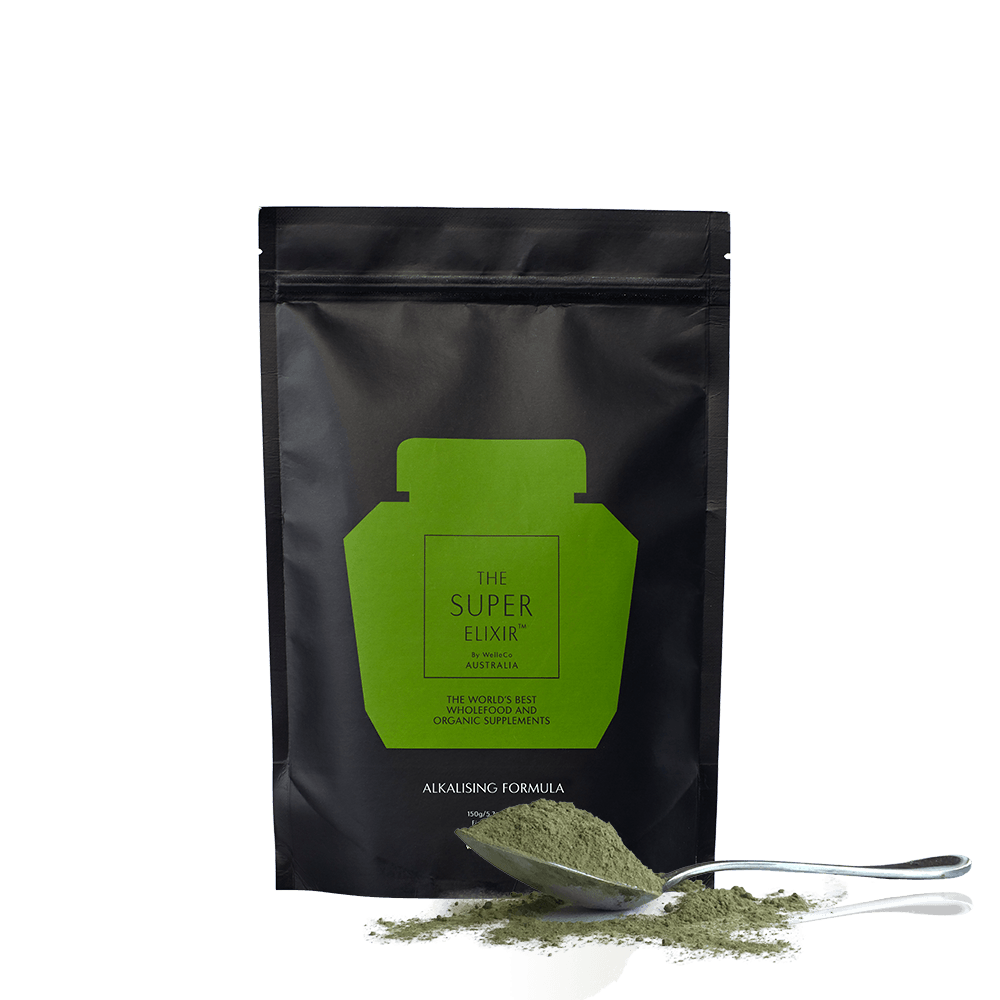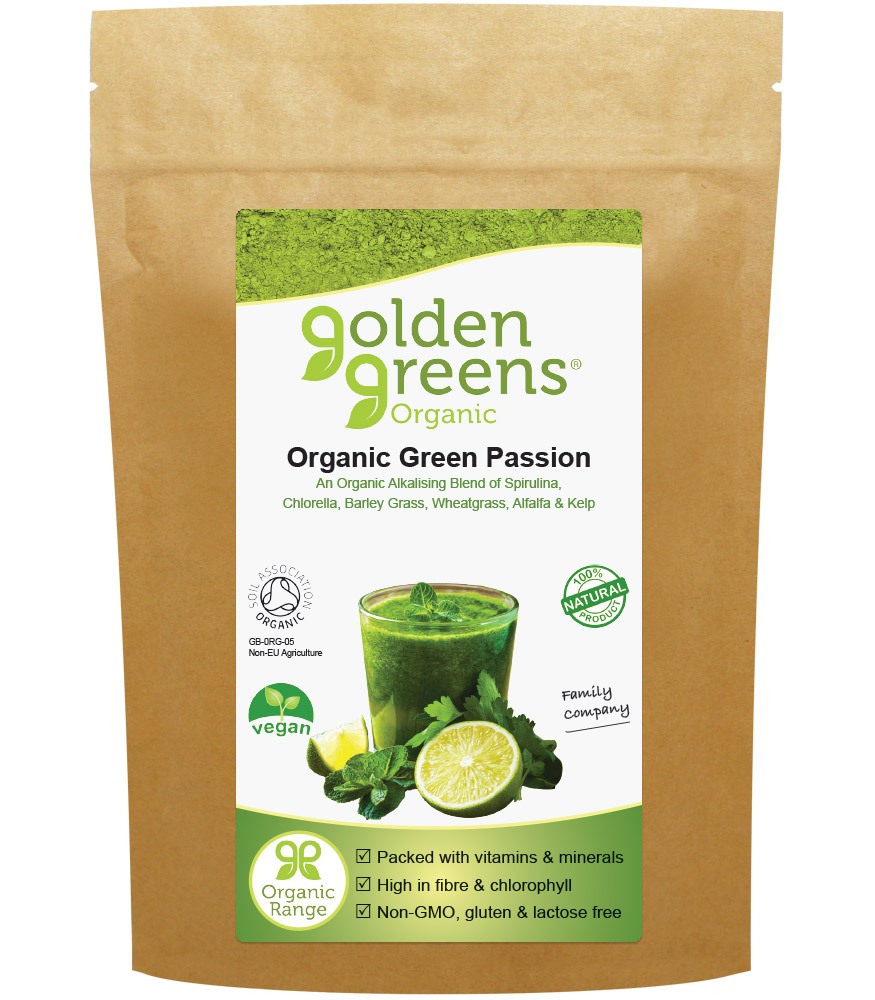 Golden Greens Organic- Organic green passion
This is refreshing blend packed full of beneficial greens: Spirulina, Alfalfa, Barley Grass, Wheatgrass, Kelp and broken cell-wall Chlorella.
Full of fibre and vitamins this is an excellent supplement that could boost your energy and provide you with lots of nutrients. This is one of our favourite and best value powders.
It mixes well with water but is particularly enjoyable in an apple, banana, turmeric and black pepper smoothie.
Key features
£18.99 for 200g (20 average servings)
Certified organic
Gluten free
Udos Choice- Beyond Greens
A fantastic organic blend of fermented barley, oat, wheat and alfalfa grasses combined with algae, spices, vegetables and seeds. These greens are great value and contain one of best list of ingredients that we've seen.
This is one of the most popular greens blends and a great one to start with. We loved it and other customers have given it glowing reviews of 5 out of 5 and 10 out of 10 in most cases.
By adding some fermented ingredients this powder will be easy for your body to absorb and use the nutrients.
Key features
Organic
Huge range of ingredients
£20.99 for 255g (31 average servings)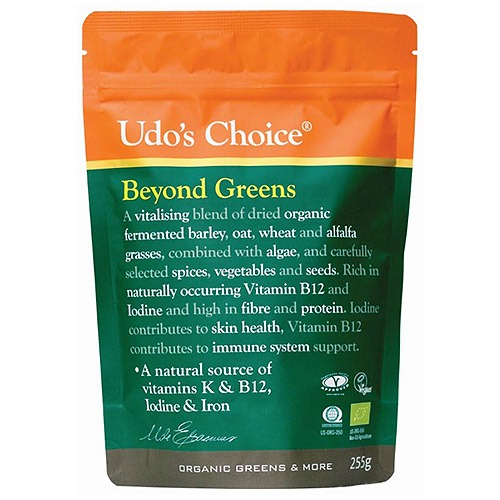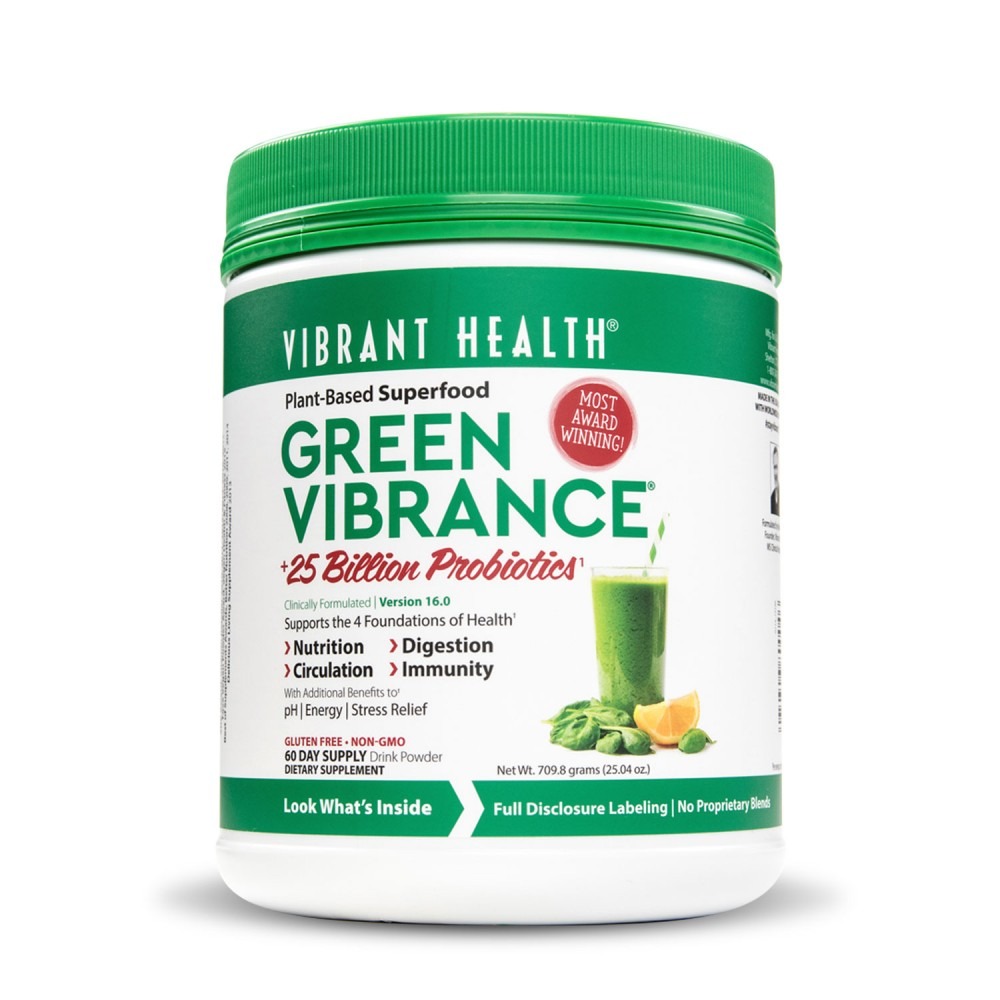 Vibrant Health- Green Vibrance Powder
We had to include at least one probiotic supergreens blend. This has over 70 amazing ingredients some of which are designed to improve your gut health.
If you want an excellent all body supplement this is the one to start with. It has many organic ingredients and one scoop gives you the equivalent of three servings of fruit and vegetables.
Each ingredient is labelled with amounts and other relevant details so you know exactly what you're getting. If you want a supplement that contains a huge range of ingredients and benefits try Green Vibrance Powder.
Key features
70+ Ingredients
Probiotic
Many organic ingredients
£39.75 for 30 daily servings
Final Thoughts
The range of greens blends available seems to be growing daily. We have chosen these products to give you a look at some of the best of the wide variety available.
When making your choice, start by thinking about what you need from your greens. Then approach each blend and see if it provides what you are after.
Remember each one has a different range of benefits, often provided in a unique way. Take your time to find the right one for you. 
With supergreens you are getting so much more than just a multi-vitamin.