While I was deciding which of the many ashwagandha supplements I was going to buy, I found there was very little to choose between. Once you've selected the dose and formula the only difference is the branding and sales pitch.
The package that finally hooked me in was that of Next Gen U Nutrition Organic Ashwagandha Capsules. I liked the clean simple design on the package and the blurb sounded like it was a potent and well-formulated product.
You can't get a true picture of any product from the packaging alone so what was I going to find when I opened the bottle? Let's get into the details and real experience of taking Next Gen U's ashwagandha for a month. I will share with you what the experience taught me about this supplement and what to look for from any ashwagandha capsule.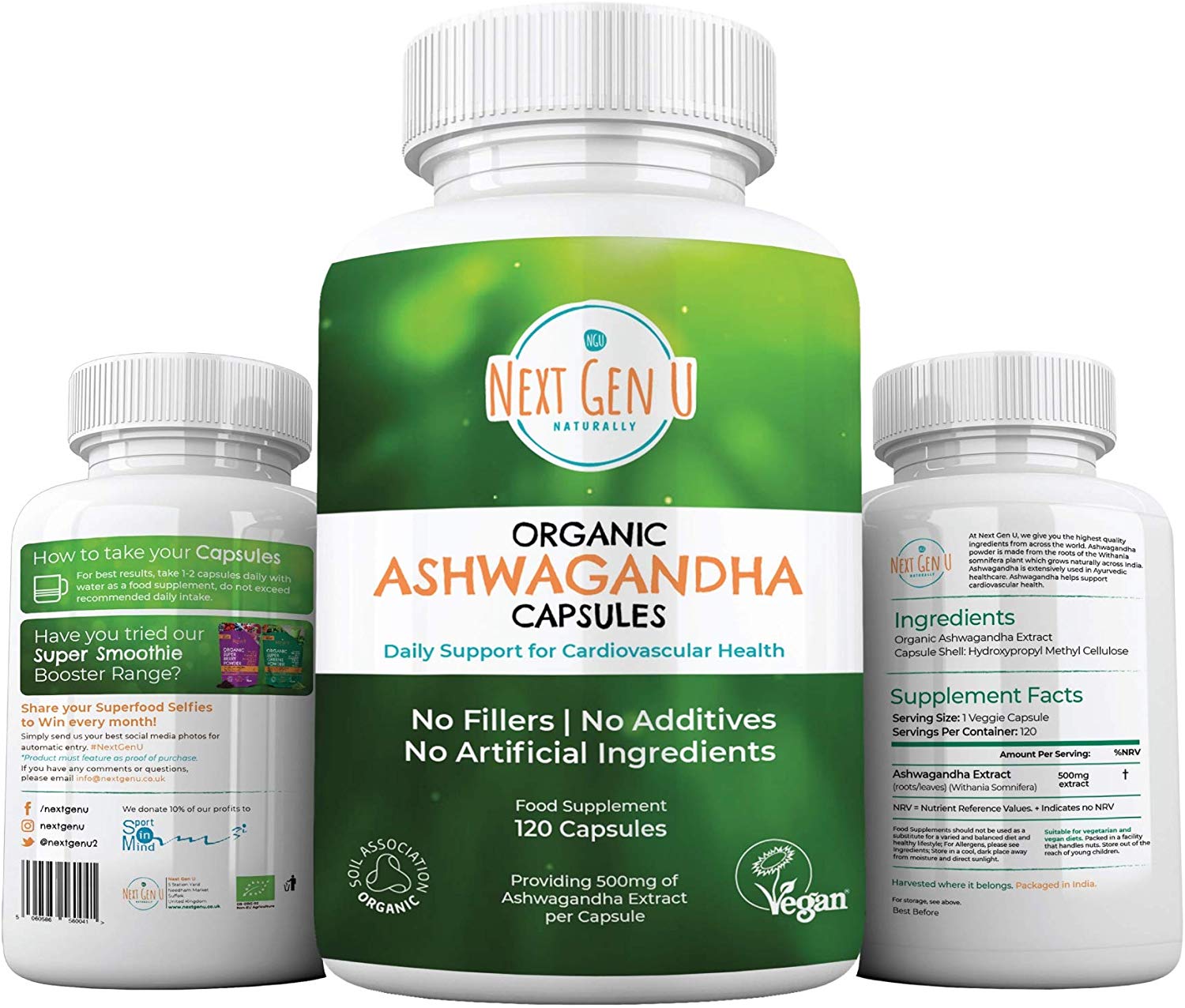 Who is Next Gen U Nutrition?
Next Gen U are a natural sports nutrition brand who produce organic vitamin capsules and supplement powders. They focus on a small number of products which, while they are suitable for vegans, are accessible for all.
Their range includes multivitamins, curcumin (extracted from turmeric), protein powder, berry blends and greens blends.
Is it value for money?
For 120 high strength capsules with 5% withanolides, I was impressed by the price of £14.99. Compared to other products you get a strong 500mg capsule for a low price.
Ashwagandha supplements are currently better value than many of the more publicised items like turmeric or CBD.
The only drawback again was with the branding and packaging. Online the pictures are impressive and they stand out compared to those of their competitors. Once the bottle arrived, I was underwhelmed. The impression it gives is one of 'bargain basement' instead of 'top of the range'.
What does it taste like?
The more natural supplements I have tried the more I have realised that a closed capsule doesn't mean that they will be tasteless. Each one seems to have a unique taste and strangely strong taste, and some are a lot more pleasant than others.
These capsules are among the less pleasant and have a harsh note, similar to horseradish with a musty background to it.
Bioavailability
This is how easily the active ingredient can reach your body. The bioavailability of this product was what particularly drew me to this capsule. It contains 5% withanolides and their presence in the ashwagandha formulation allows for better absorption.
Next Gen U have also taken steps to minimise the levels of withaferin A which makes the product safer and easier to absorb.
How effective is it?
I have taken this supplement twice daily for a month now and have been very impressed. After a couple of weeks, I noticed a definite reduction in feelings of stress and anxiety.
Recently I increased the dose and continue to feel focused and positive. Unfortunately, it is very hard to know if this is down to the capsules, but I believe that it is.
When I first started taking ashwagandha I immediately became susceptible to tension headaches. For the first week, it took very little for me to get a splitting headache. I used a little CBD oil which really helped but it wasn't long before they completely disappeared.
Next Gen U's organic ashwagandha is among the strongest available and excellent value. It doesn't have the feel of a top quality product but it is well formulated and very effective.
Pros
Value for money
Certified vegan and organic
5% withanolides
Cons
Unpleasant flavour
Poorly packaged