ESEOE Diffusers on Amazon
ESEOE provide a range of budget diffusers that can be bought on Amazon and eBay. They've cornered the budget end of the aromatherapy diffuser market with a variety of no-frills devices for less than £20. This 100ml model is currently one of the cheapest on the market, so it is ideal if you want to diffuse some essential oils but don't want to spend too much.
Electric diffusers are an effective way to fill a room with a subtle fragrance and deliver the benefits provided by essential oils. Naturally fragrant, these oils contain the concentrated extract of aromatic plants and flowers. An aromatherapy diffuser combines a small amount of oil with water and creates a mist that fills the room with scent.
Note: The diffuser pictured is an earlier model to the version currently on sale.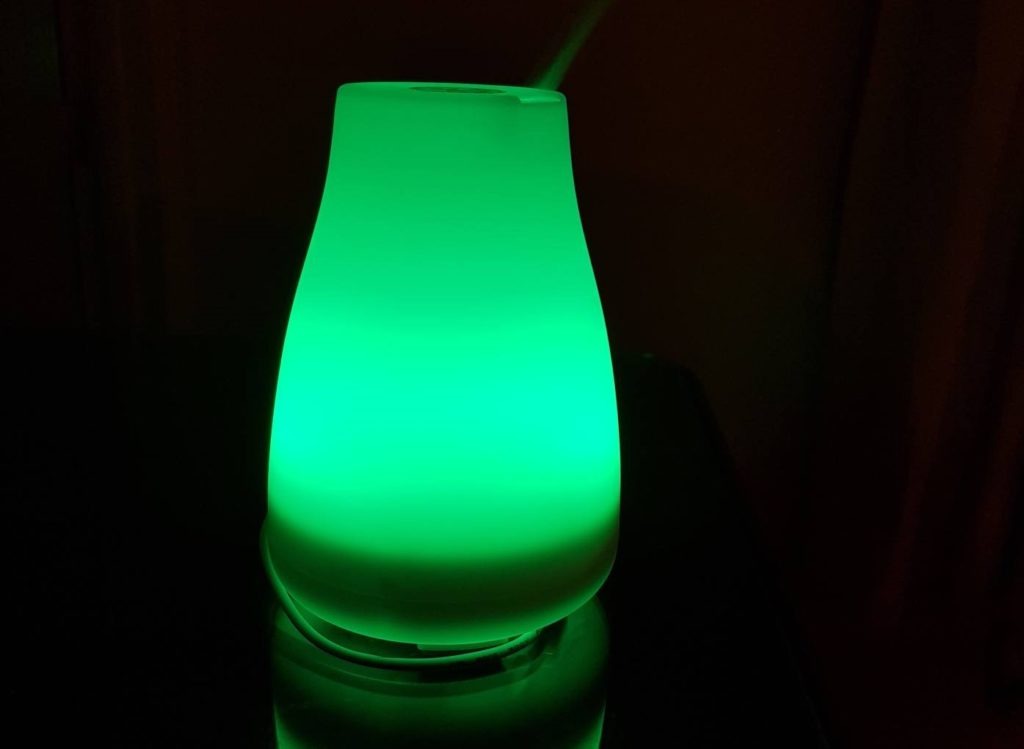 Appearance
The 100ml Eseoe diffuser isn't the most attractive, but its small size means that it doesn't draw too much attention if left on a shelf or sideboard. Unlike some of the premium diffusers available, this one seemed to be designed solely to carry out its function rather than deliver stylish looks. While not unpleasant, its white plastic finish means that it's less likely to blend into your decor than some of the others.
I used it most often in the evening with a few drops of lavender essential oil to help me get to sleep, so I didn't mind that it looked a little basic. However, once the light function is turned on, it gives a pleasant glow that gently changes through seven different colours.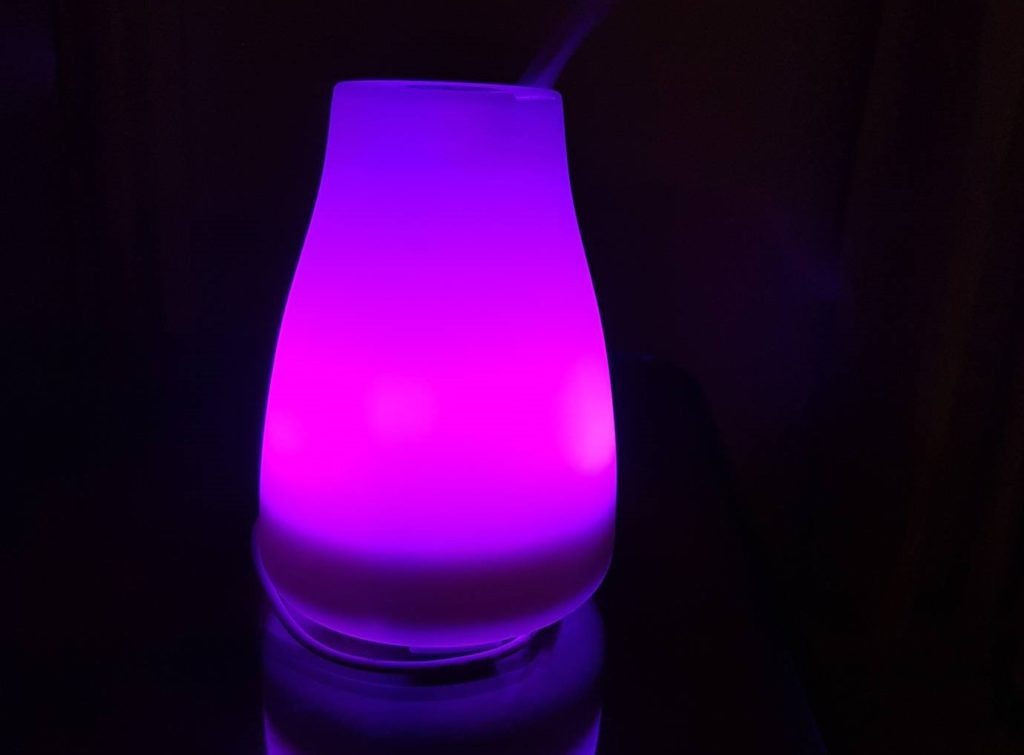 Ease of use
The Eseoe 100ml was easy to set up and very straightforward to use. To get started you plug it in, take off the lid, top up the water and add a few drops of oil. Once you've replaced the cover, it just takes the push of a button to get it started.
If you want the mist and no lights, one touch of a front-mounted button turns them off. After 2 hours of use, the mist and lights turn off completely. This makes it perfect for the evening because you aren't afraid of forgetting to turn it off if you fall asleep.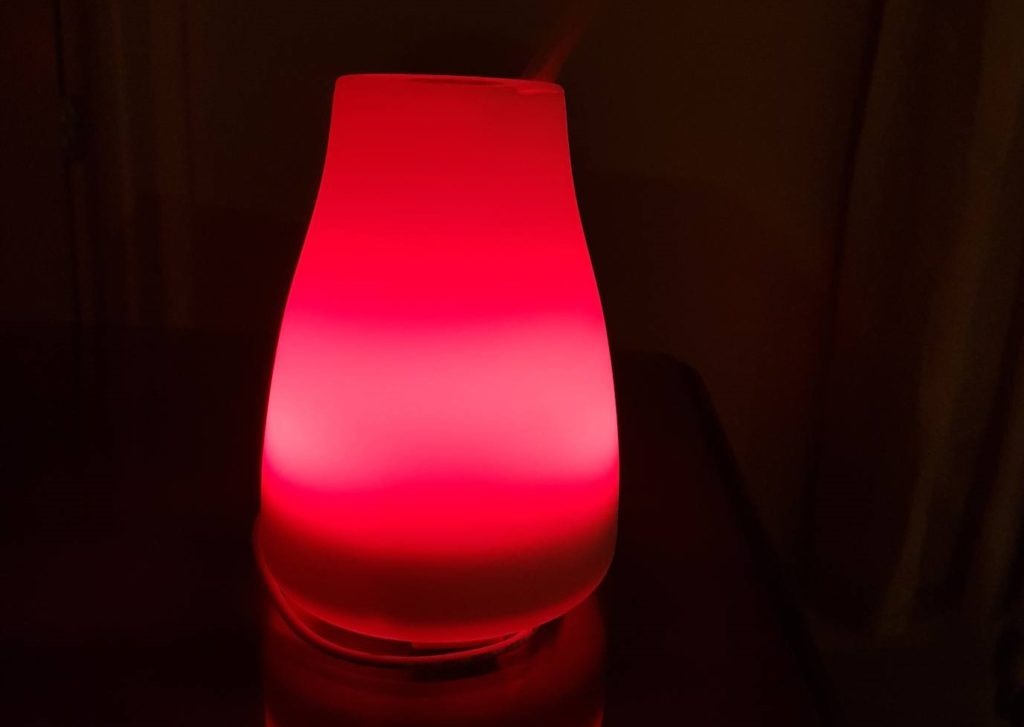 Effectiveness
As soon as you turn the Eseoe diffuser on you can see a mist pouring out of the hole in the top. Other than the very faint sound of the vapour leaving the diffuser, there is almost no sound at all.
When I turned the device on, I could immediately smell the essential oil, but after a while, I found it less noticeable. While smells do tend to fade into the background after some time, I still felt that it could be stronger. I tried using more oil but ultimately concluded that this model is more suited for smaller rooms.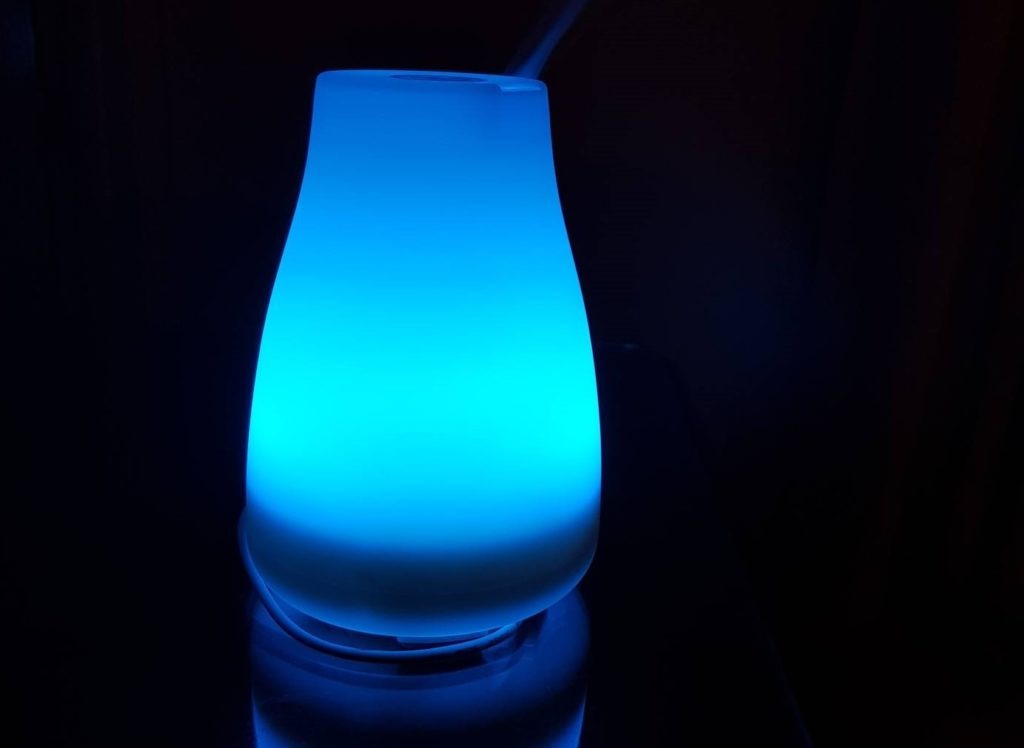 Value for Money
At £14.99 it is less than half the price than many of the larger diffusers out there. When used in a small room, it compared very well against other diffusing methods, and because the oil is mixed with water, a small amount lasts a lot longer than a reed or candle diffuser. ]
If you want to try an electric diffuser without breaking the bank, this is a great choice. Although, if you like being able to diffuse essential oils at the touch of a button, you may find yourself relegating the Eseoe to a smaller room and buying one of the larger models.
An excellent diffuser for those new to essential oil diffusing who want to try it without paying £30 or more. Its easy to use and makes a small amount of oil go a long way. Unfortunately, once you've got used to it, you will start wishing that it could be a little more powerful. It's not the best looking model available, but it's discreet and silent when working and will turn itself off after 2 hours.
Totally silent
It glows brightly with 7 colours
Easy to use
Excellent price
Only powerful enough for a small room
Not particularly attractive to look at
ESEOE Diffusers on Amazon